The Open Lighting Project has moved!
We've launched our new site at
www.openlighting.org
. This wiki will remain and be updated with more technical information.
USB DMX
From wiki.openlighting.org
Link: http://www.usbdmx.com/usb_dmx_interface.html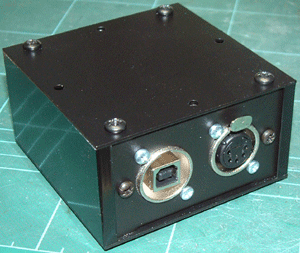 The interface has the following key features.
USB Bus powered
DMX lines galvanic opto-isolated from the USB bus
DMX lines over voltage protected, and current limited
Simultaneously send and receive up to 512 channels
Minimal host computer resource needed
Firmware updatable over USB
High quality resilient line drivers
Heavy duty powder coated steel case
Affordable and easy to build
Compatible with all major O/S (refers to driver for USB to serial interface)
The data is buffered in the device, and the device handles the timings itself
LLA and DMX4Linu has no driver for this device (8/1 2007), but the protocol is documented.
The interface can be used from a number of DMX controller apps for Windows and Mac OS.
There is a schematic for this device.