The Open Lighting Project has moved!
We've launched our new site at
www.openlighting.org
. This wiki will remain and be updated with more technical information.
UMX2
From wiki.openlighting.org
Link: http://www.sandsys.com/products/umx2.htm
Made by: Sandsys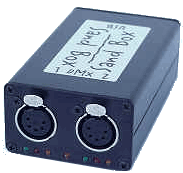 The SandBox UMX2 is equipped with 2 bi-directional ports for up to 1,024 DMX inputs or outputs. The DMX connectors are located on the front of the unit and are complimented by separate input and output indicators for easy monitoring.
The SandBox UMX2 is available with 3 different connector configurations; 2 male XLRs, 2 female XLRs, or one male and one female XLR, offering the optimal solution for your everyday application.
The computer connection is USB.
It is powered through USB.

Related Products: