The Open Lighting Project has moved!
We've launched our new site at
www.openlighting.org
. This wiki will remain and be updated with more technical information.
DMX USB Pro
From wiki.openlighting.org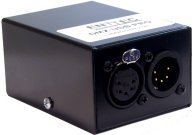 Link: http://www.enttec.com/index.php?main_menu=Products&prod=70304&show=description&name=dmxusbpro
Made by: Enttec








The pro widget unlike it's little brother (The Open DMX USB) contains a microprocessor (ATMEGA88) responsible for framing and transmission, or reception of dmx. Also it's USB interface is a FTDI FT245BM, so VCP (virtual com port) drivers make programming easy as opening a serial port and sending/receiving!
It has 1500v dmx line isolation, A green LED which indicates RX or TX activity, and gold plated Neutrik XLR's (1xmale, 1xfemale wired in parallel). Later versions have NewTide clones of the genuine Neutrik XLR's.
The timings of the transmitted DMX signal can be adjusted. According the Enttec web site, it has RDM support in V2 firmware, the unit ships with V1 by default, see [1] for details.
Enttec provides programs to update the firmware on Windows and Mac. OLA has a tool to update the firmware which works on Linux and Mac, otherwise qemu can be used.
Earlier units did not have serial numbers programmed and this may affect the ability of certain applications to identify multiple Pro units connected simultaneously.

Related Products: