The Open Lighting Project has moved!
We've launched our new site at
www.openlighting.org
. This wiki will remain and be updated with more technical information.
DMX Oscilloscope pictures
From wiki.openlighting.org

There is always discussion about the quality of DMX-USB-interfaces, so I think it is time to face this discussion with the reality. Whats more real, than oscilloscope pictures of the signal. I have done pictures of all the interfaces and consoles I could find.
We should have a complete list - so please, if your interface is not here, try to make a photo and add it.


Theory

Erwin Rol is explaining the DMX timing very good on his website - the following picture is from this this site - the important part of the signal is around the break - so I tried to catch this part with the oscilloscope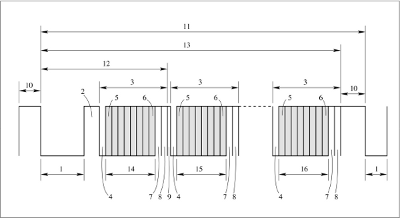 1. SPACE for BREAK
2. MARK after BREAK (MAB)
10. MARK before BREAK (MBB)



© of the diagramm by Erwin Rol


Ethernet to DMX interfaces

ETC E-Gate Plus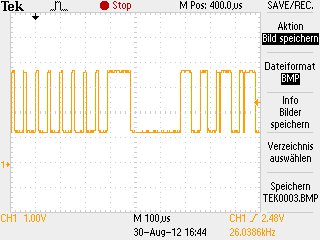 Website

Price: ???
Lenght of cable: 20 m







Signal strenght: 3,7 V

ETC-Net3-ACN-Gateway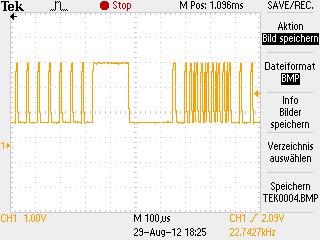 Website

Price: ???
Lenght of cable: 20 m







Signal strenght: 2,7 V


USB to DMX interfaces

DMXking ultraDMX Micro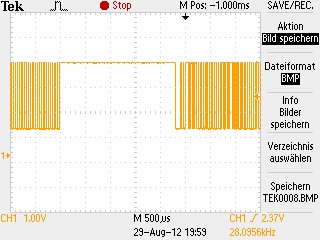 Website

Price: 60 $ sometimes cheaper (39 $)
Length of cable: no cable







Signal strenght: 3,2 V

Enttec USB open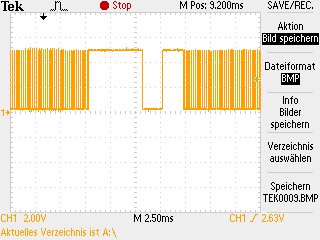 Website

Price: 60 $
Length of cable: no cable







Signal strenght: 4,2 V

Enttec USB Pro - firmware 1.44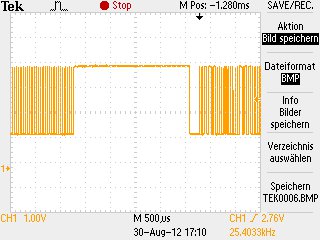 Website

Price: 120 $
Length of cable: no cable







Signal strenght: 3,7 V


Consoles

siemens S28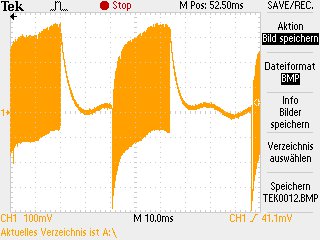 one of the first DMX-consoles



Length of cable: no cable







Signal strenght: 3,2 V

Transtechnik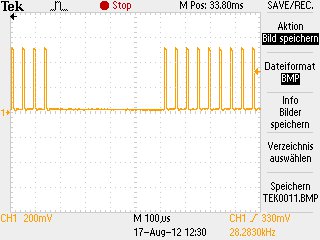 TRanstechnik



Length of cable: 5 m







Signal strenght: 3,2 V